H.E.R.O.E.S. Care Night
presented by Boeing
Boeing and the St. Louis Blues have teamed up to support H.E.R.O.E.S. Care with a donation drive during the Feb. 4 game vs. Ottawa.
Volunteers will collect care package donations from fans to be sent to troops overseas.

Needed care package items include:
Kool-Aid
Slim Jims
Lollipops
Power Bars
Canned Tuna
Baby Wipes
Ivory Soap
Eye Drops
Sun Block
Flashlights
Batteries
Hard Candy
Tooth Paste
Tooth Brush
Fruit Snacks
Phone Cards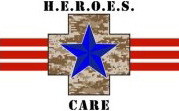 About H.E.R.O.E.S. Care
Four charitable organizations work together to apply the power of passionate compassion on behalf of military families before, during, and after deployment in the communities where they live. Since 2003, H.E.R.O.E.S. Care has provided material, financial, and other support to more than 100,000 military families. Visit
www.heroescare.org
to learn more about the partnership, its members, and its mission.